Looking for Seasonal Cruise Industry Work
Staffing a vessel, large or small, is an ongoing process. People are hired when positions need filling, not necessarily at the beginning or end of a season, although there are occasionally more opportunities during peak times.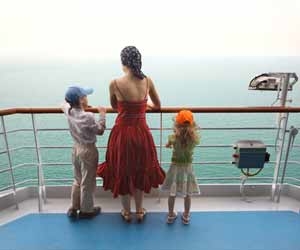 Those times include the Christmas holiday season, spring break, and the summer months of June, July, and August.
Finding seasonal employment is not just a matter of sending in a resume and requesting a contract for the summer months. It's a matter of targeting your search at the right companies. Large, international cruise lines such as Princess and Carnival typically ask for a minimum six-month commitment. However, this can vary, depending on the position you're looking for.
For example, if you're interested in being a youth counselor – a job that is more in demand during the summer when children are vacationing with their families – the likelihood of finding a contract that will allow a college student to attend school in the fall is much higher. In some cases, too, you can negotiate the length of your contract. But remember that in any negotiation you need to bring something to the table. One card you can play is to let the potential employer know that you are interested in working for the company for more than just one season. An interviewer might consider allowing you to work from June to August the first year if he or she feels that the investment in training you would be paid off in the long run by gaining a future veteran employee.
Show potential employers that you are serious about making a career-or at least a long-term commitment-to cruising and that you are willing to make a few sacrifices in your time. You may even wish to offer skipping a semester of school the first year you work on a ship, if that means you can work for just the summer the following year.
Missing one semester of college is not the end of the world, and the life experiences you'll gain from your job may actually help you become a more disciplined student, as well as look good on a resume.
An even better idea is to not limit yourself to only international cruise lines. Regional cruise lines, such as river boat companies that cruise the Mississippi or St. Lawrence Seaway, are more likely to hire seasonal employees because they don't sail the south seas during the winter. These smaller companies are also more apt to hire American college students because their ships are usually registered in the U.S. This means they need to hire Americans, further increasing your chances.
You can also limit your search to companies that sail to places such as Alaska and Europe, which have their peak seasons in the summer, and where cruises and tours usually end, or at least taper off, by early fall.
On the other hand, if you feel your time this year will be limited to the summer, then an ideal alternative would be to seek a job in the land tour or resort industries. There are many parallels between resort and land tour companies and the cruise industry. For example, any resort hotel experience has direct relevance on anything hotel related on a cruise ship. After all, a cruise ship is basically a floating resort. Some resorts even own their own cruise ships, and some cruise companies own their own resorts! If you found work with such a company (for example, Club Med), you could easily transfer from resort to cruise ship and back again. Finding work at a resort is often easier than getting a job on a ship because resorts are more open to hiring Americans for entry -level positions. You'll also find yourself receiving more tips at a resort than you will on a cruise ship; plus it's easier to leave a resort to explore your surroundings than it is to leave a ship in the middle of the ocean!
Tour companies also provide experience relevant to cruise employment. Cruise ships often hire tour guides and "shore excursion" staff whose jobs are just like those of land tour guides. Even if you want to get into some other type of work on a ship, starting as a land tour guide will provide you with valuable skills, such as time management, public speaking, and customer relations, all of which are highly prized by employers in the cruise industry.As a land tour guide, furthermore, you'll have more time flexibility, since many guides are freelancers who set their own schedules.
Finally, land tour and resort work offer you the same opportunities to travel and visit exciting locales. Because of these many parallels between these industries, this manual includes chapters on these alternatives so you can explore all your options. Before seeking a job in the travel industry, seriously assess the amount of time you are willing to work and then you can better decide whether you want to work for a international or regional cruise line, or for a land tour or resort company.