Reservation Agents
Reservation agents and customer service representatives are an integral part of the cruise line team. Although you won't find these positions onboard a ship, you will likely speak or work with one if you're trying to find some help regarding your cruise ship reservation. Find out more about becoming a reservation or customer service agent for a cruise ship. These jobs represent an excellent opportunity to work in the travel industry.
Reservation agents work directly with those wishing to purchase tickets for a cruise.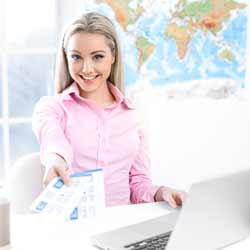 If you need help with pricing or finding the right trip for your budget and taste, you will likely speak to a reservation agent on the phone, or correspond through email. Reservation agents who have experience in the travel industry and accreditation or agent licenses, are usually shown a preference when hiring. Having an understanding of the cruise ship industry and travel related experience will help you be the best help to potential customers.
A great many trips are actually sold by outside travel agencies, so there are not as many opportunities for reservation agents in the cruise business as one might expect. Those that do procure a job can expect to make a good living although pinpointing exactly how much will vary extensively.
Some reservation agents will work on commission, others on salary, and some on a combination of both.
Agents are expected to know about the cruise line and be able to answer questions related to booking and tickets. They should enjoy working with, and helping people, in addition to having friendly personalities.
Customer service representatives don't necessarily need any experience and therefore it represents an excellent job for people who want to work in the travel industry. A friendly demeanor, patience, and a clear speaking voice are key for customer service agents.
While there is minimal experience needed, customer service agents will be trained on the details of the cruise ship, including information on: itineraries, rooms and a number of other details in order to correctly answer any questions that might come their way.
Customer service representatives can make anywhere from $1,600 to $2,400 a month. Many of these jobs are available in full- or part-time positions.
If you want to break into the travel industry but can't be away from home for months at a time on a cruise ship, consider a career as a reservation or customer service agent. Enjoy benefits like travel discounts for friends and family, in addition to a rewarding and fulfilling cruise ship career.
Flight Coordinators
The logistics of transporting 2,000 passengers to Europe and back every ten days for a Mediterranean cruise can boggle the mind. Cruise lines have found that having a flight coordinator on board the vessel to troubleshoot airline arrangements can prevent a lot of problems. The position requires some experience in reservations and familiarity with the airline industry. The job also requires superior organizational and people skills, a love for details, and the ability to keep on top of paperwork. Most flight coordinators work independently or with a partner and coordinate their work with the purser. Flight coordinators often set their own work schedules, leaving plenty of free time for shore excursions.