Riverboat and Barge Cruises
More and more people are considering river and barge cruises as an alternative to oceangoing trips, or extending their cruise experiences to include these unique waterway vessels. Even if you are committed to working for the biggest and the best megaliners, take the time to read what we have to say about smaller cruise lines.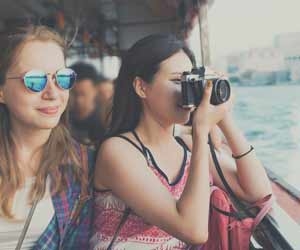 It will only broaden your employment opportunities. Passengers find this form of cruising to have a more informal, intimate atmosphere, especially since some of the smaller river barges limit their cruises to a dozen passengers or so. This arm of the cruise industry has seen tremendous growth in the last decade. And who could argue with itineraries that include pampered rides along some of the world's greatest rivers?
Some of these destinations include the Nile, Amazon, Volga, Yangtze, Mississippi, Columbia, Danube, and Rhine rivers. The longest waterway in Europe is the newly opened Rhine-Main-Danube, which connects fourteen countries from Rotterdam on the North Sea to Sulina and Izmail on the Black Sea, offering passengers and crew incredible, ever-changing scenery most oceangoing cruises would be hard-pressed to match.
One of the grandest traditions in riverboating just might be the huge wooden paddlewheelers plying the rivers of the United States. These thoroughly modern boats, which carry up to 450 passengers, evoke an era of Victorian style and opulence that was the turn-of-the-century standard for all well-heeled passengers. Their classic wedding-cake composition, tall smokestacks, and luxurious amenities are reminiscent of the boats piloted by Mark Twain, causing him to remark, "The steamboats were finer than anything on shore. Compared with superior dwelling houses and first-class hotels in the valley, they were indubitably magnificent, they were palaces."
Steeped in heritage, history, and adventure, paddlewheelers traverse rivers such as the Columbia, Mississippi, and Ohio with all the dining and entertainment options found on oceangoing cruises. Yet the experience is quite different from sailing on the open seas, where hurricanes and general bad weather can wreak havoc. Moreover, riverboat companies cruising U.S. waterways typically hire Americans for all shipboard positions. One employee who served as a customer service representative for a river cruise company described his work:
"Our cruise ship ran up the Columbia River from Portland, Oregon, through the Gorge all the way to the Snake River in Idaho. We did a little bit of everything on our boat. We served meals, cleaned the deck, cleaned guest rooms, and served drinks. It was a lot like working on a floating hotel, only on a much smaller scale with a really natural atmosphere. It was great being so close to our surroundings, and I think the guests and employees were a lot more laid back and interesting than the people on glittery cruise ships."
In contrast to large U.S. riverboats, European river vessels have long and low profiles with masts that fold down in order to clear the many bridges found along the way. Barges, which cruise primarily through European canals from April through November, are even smaller than their river counterparts. They serve mainly as first-class water hotels. Passengers go ashore on their own during the day, returning at night for a gourmet dinner. Despite their sometimes ungainly appearances, barges are highly sophisticated and beautifully outfitted with custom-built furniture, rich fabrics, and crystal service ware. Because of their popularity with North American passengers, European river and barge cruise companies have been known to employ English-speaking crews to handle a variety of duties. However, applicants should already be living in Europe to be seriously considered for employment with such a company. Most will not pay for an employee's transportation from the United States to Europe. Applicants who can speak German or French, in addition to English, will have a definite advantage as well.