Jobs with Royal Caribbean
Royal Caribbean Cruise Lines is one of the world's most popular and most prominent cruise lines. Founded in 1968, the cruise line now has more than 20 ships in their fleet all of them donned with a name that ends, "Of The Seas."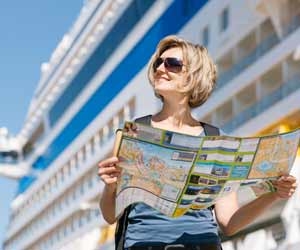 Royal Caribbean offers mainstream cruising into some of the world's most popular oceans. While for years it concentrated mainly on the Caribbean, it has since
expanded now offering cruises into Bermuda, Europe, Alaska, Hawaii and Mexico. What began as a small fleet operating out of Florida with simply a great idea to provide cruises for rich and wealthy Americans, has become a name synonymous with luxury and family cruises all over the world.
Search Current Royal Caribbean Job Openings
Royal Caribbean has similar jobs to those of other cruise lines. Jobs tend to be divided up by land based jobs and jobs that take place on the ship. Employees who work on land based jobs for the cruise line enjoy benefits like family and friend discounts on cruises and other perks of working in the industry but aren't required to leave their families behind for months at a time while on contract. Because Royal Caribbean Cruise Line's Headquarters are in Miami, a large number of corporate, management, sales and telephone guest services are located in Florida.
Ship based jobs are what most people are after when wanting to join the Royal Caribbean cruise line job force. Sailing the warm waters of the Caribbean, taking in the views of the Mexican coastline, attending to happy guests onboard after a day in the sandy beaches all seems like a dream come true. Ship jobs on any cruise line offer the incredible advantage of working a lot of hours and spending very little money over the course of a ship job contract. The same is true for Royal Caribbean cruise ship employees. Because the cruise line almost always pays for accommodations, offers compensation or free food, the savings potential is incredible.
To find out what jobs are available with Royal Caribbean Cruise lines you can always check their online career opportunity job board. However, if you don't see what you're looking for there and still want to work for the cruise line, consider sending in an application or resume unsolicited. Cruise companies often don't openly advertise for positions that are available so by expressing an open interest you've already put yourself ahead of the game. Cruise ship operators also hire out companies to hire for them so looking through a cruise ship job finder is also an excellent way to go. Companies such as this often have special relationships and access to jobs that aren't otherwise advertised.
Working for Royal Caribbean you are with one of the most long standing and popular cruise lines in the world. All employees are paid fair wage with an increase in salary as the job title, amount of experience and responsibilities increase. Some cruise ship employees can make as much as $6,000 over the course of a four-month contract in savings. Working a cruise ship job with RCCL doesn't only provide you with gorgeous sunsets and the opportunity to travel year round, but it also can help you earn some amazing savings as well.
More Royal Caribbean Employment Information