Apply for Specific Cruise Line Jobs
Most people applying for jobs with cruise companies will ask for any job onboard.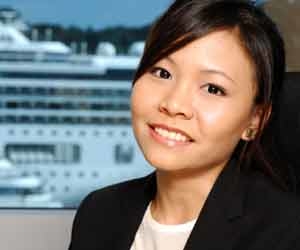 This usually tells the hiring manager that you're interested in cruising, not working a real job. To avoid being left in the rejection pile, make sure you apply for specific positions, and let your resume and cover letter show that you have the experience and aptitude for the job. Also, try calling ahead of time. Many major cruise lines have separate job lines you can call to see which jobs are available. Also, remember to check the Job Center to find employers searching for applicants.
Researching the Company
Usually it is good practice to begin looking into potential employers before sending out your resumes and letters of interest. By doing so, you will be able to tailor your cover letter and resume to address specific areas of interest to that company. One goal is to show that you are qualified and can adequately fill a position with the company, and another is to show your interest in each particular employer. Anything you learn about the company and the industry will help you become more confident during an interview. Your knowledge will also help you answer questions an interviewer might ask you about his or her company.
Where can somebody find information about individual cruise companies? Start in the library. Many libraries have a place for material pertaining to general employment. Look up annual reports on the larger companies such as Holland America Line and Princess Cruises. Financial reports provide a lot of good, general information on the company. Call the corporate headquarters, whose phone numbers we have listed for you, and quiz employees about the company. Call travel agents and ask them about company reputations and their track records. And be sure to review the employers in our Job Center for specifics, including fleet profiles and itineraries. Do all of these things prior to leaving for your interview. People who have done their homework always feel better about their chances.
Keep in mind that there is a lot of company information online. If you don't have the time to review company information at length, then simply read a company profile on their homepage. Any information you can gather about the company is advantageous. It goes without saying, that those who are best prepared will likely procure the best jobs.
Applications
With so much information streamlined through the Internet there are more opportunities than ever to find and apply for cruise ship jobs online. You will find an increasingly large number of cruise ship companies that provide applicants the chance to review jobs and apply for jobs online.
The process is fairly simple. Applicants interested in working for a specific cruise ship, can search for jobs on that cruise liner's home page. Most job links will take applicants to a job center where a job profile page is created.
This is similar to completing an online resume. Most users will be asked to start an account when they first arrive so they can login and access information regarding their application. Some online applications allow job hunters to apply for specific jobs, while others ask applicants to complete a general resume and their related skills are cross referenced against available jobs. Some will say they've had great success applying for cruise ship jobs online, while others have been less successful.
The more detailed you can be on your online application or uploaded resume, the better. Also, tailor your information for specific companies and jobs, and your chances will improve. If your online application has been chosen, you will most likely be contacted by phone for an official job interview. For more information about how to fill out a cruise ship job application, see our advice on applications.
Other ways to take advantage of online content is by researching when cruise ship companies or concessionaires will be in your area holding interviews. This is a great way to use an online resource to procure an interview person to person.
Keep in mind that there are some jobs in the cruise industry that are not publically listed. That is where resources like our cruise ship job board, where specific jobs are posted, will come in handy for applicants.