US Passport Agencies List
Applying for a passport is becoming more and more common. For example, US citizens traveling to Canada and Mexico are now required to have passports. Additionally, having this travel document is a great source of secondary identification and takes the place of a birth certificate in many cases as proof of ID.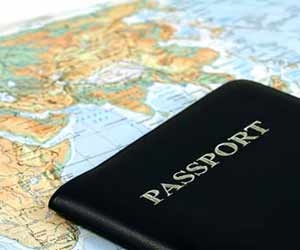 A great deal of the passport information you are looking for will be available online. You can find this information on the U.S. State Department's travel and passport page or on our page regarding passports for cruise ship jobs.
If you cannot apply for a passport online, you may need to apply or visit a regional office in person. Below you will find a list of all the agencies organized by region. If for some reason you cannot find an agency in your area, please check the full passport agency list provided by the US State Department.
For all passport agency appointments call: (877) 487-2778
Boston Passport Agency
Tip O'Neill Federal Building
10 Causeway Street, Room 247
Boston, MA 02222
Region: Maine, Massachusetts, New Hampshire, Rhode Island,
Upstate New York, and Vermont
Chicago Passport Agency
Kluczynski Federal Building
230 S. Dearborn Street, Room 380
Chicago, IL 60604-1564
Region: Illinois, Indiana, Michigan, and Wisconsin
Connecticut Passport Agency
50 Washington St., 1st. Floor
Norwalk, CT 06854-2710
Region: Connecticut and Westchester County (New York)
Honolulu Passport Agency
Prince Kuhio Federal Building
300 Ala Moana Blvd.
Suite 1-330
Honolulu, HI 96850
Region: American Samoa, Federated States of Micronesia, Guam, Hawaii, and Northern Mariana Islands
Houston Passport Agency
Mickey Leland Federal Building
1919 Smith Street, 11th Floor
Houston, TX 77002-8049
Region: Kansas, Oklahoma, New Mexico, and Texas
Los Angeles Passport Agency
Federal Building
11000 Wilshire Boulevard
Suite 13100
Los Angeles, CA 90024-3615
Region: California (all counties south of and including San Luis Obispo, Kern and San Bernardino), and Nevada (Clark County only)
Miami Passport Agency
Omni Center
1501 Biscayne Boulevard
Suite 210
Miami, FL 33132
Region: Florida, Georgia, Puerto Rico, South Carolina, and U.S. Virgin Islands
New Orleans Passport Agency
One Canal Place (corner of Canal and North Peters Streets)
365 Canal Street, Suite 1300
New Orleans, LA 70130-650
Region: Alabama, Arkansas, Iowa, Kentucky, Louisiana, Mississippi, Missouri, North Carolina, Ohio, Tennessee, and Virginia (except DC suburbs)
New York Passport Agency
Great New York Federal Building
376 Hudson Street
New York, NY 10014
Region: New York City and Long Island
Philadelphia Passport Agency
U.S. Custom House
200 Chestnut Street, Room 103
Philadelphia, PA 19106
Region: Delaware, New Jersey, Pennsylvania, and West Virginia
San Francisco Passport Agency
95 Hawthorne Street
5th Floor
San Francisco, CA 94105-3901
Region: Arizona, California (all countries North of and including Monterey, Kings, Oulare, and Inyo), Nevada (except Clark Co.), and Utah
Seattle Passport Agency
Henry Jackson Federal Building
915 Second Avenue
Suite 992
Seattle, WA 98174-109Region: Alaska, Colorado, Idaho, Minnesota, Montana, Nebraska, North Dakota, Oregon, South Dakota, Washington, and Wyoming
Washington Passport Agency
1111 19th Street NW, Room 300
Washington, DC 20522-1705
Region: Maryland, Northern Virginia (including Alexandria, Arlington County, and Fairfax County), and the District of Columbia
Certain countries require travelers to have vaccination against diseases such as yellow fever and cholera. In any case, it is to your advantage that you are immunized against potentially serious illnesses, such as smallpox, polio, mumps, measles, rubella, and diphtheria. A large number of vaccinations are already taken care of as a part of your vaccinations as a child. However, you should always research recommend vaccines for the countries you will be traveling within. Most information on vaccinations is available online. The CDC Travel Information Center is located online, and will tell you the health precautions you need to take to protect against diseases while traveling. It also has updated vaccination information for a number of popular world destinations.
Keep in mind that most vaccination information is located online and can be found by doing a simple online search on your destination. Once you are signed onto a ship however, the cruise line will vaccinate you according to the requirements of the country(s) that you will be traveling to.