Employment Categories On Cruise Ships
Some cruise ships operate more like giant hotels than boats. Ocean mega-liners employ hundreds of people to work in a variety of positions due to the size of the ship and the number of passengers that can travel at one time.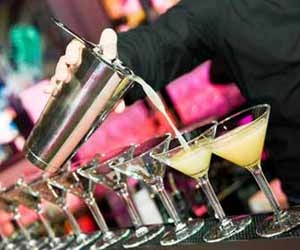 Each position onboard a cruise ship is critical to the flawless execution of a successful cruise. Each and every job is a necessity.
On a cruise ship you will typically find jobs that are similar to what you'd expect at a five-star resort. If you've ever been a cruise ship, you probably understand why. Onboard almost any ocean liner you will find high-end restaurants, casinos, pools, spas, salons, entertainment stages and even childcare centers. As such, there are opportunities for a number of jobs. Cruise ship jobs can include: bartenders, hairdressers, massage therapists, disc jockeys, musicians, child care workers, gift shop workers, hostesses, entertainers, lifeguards, food servers, and activity coordinators. And that's just the beginning!
Even smaller cruise ships have to fulfill extensive staff requirements. For small ships however, applicants will most likely have a variety of positions. Most will be hired as deckhands who are responsible for any number of passenger service duties. This means that at any one time as a deckhand on a small cruise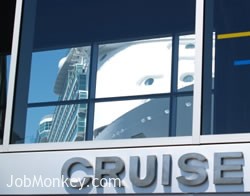 ship, you might find yourself unfurling the sails one minute and whipping up breakfast the next.
In the following pages you will find out exactly what it is like to work on a cruise ship. Employee interviews will give you a first-hand account of what cruise ship living is really like and within each job department we feature job descriptions and information about working on a cruise ship. Learn the differences between working on small and large vessels, and find out about pay and benefits too.
Below is a brief example of the types of jobs you will learn about in the following sections.
Activity Department
The activities on a cruise ship, fall under the activity and entertainment department. This department is responsible for all of the ships entertainment staffing needs. This means as an employee in the activity department you might be working as a disc jockey, cruise director, entertainer, expedition leader or lecturer. In addition to these jobs there are a great deal more available that surround activities and entertainment. Find out about what it takes to work in the activity department inboard a cruise ship.
Spa and Salon Jobs
With so many high-end amenities it comes as no surprise that cruise ships have raised the bar, now offering spa and salon amenities in addition to fitness centers and gym classes. When visiting a spa, salon or fitness center on a cruise ship you might see fitness instructors, fitness directors, beauticians, massage therapists or cosmetologists. Find out more about cruise ship spa and salon jobs now.
Service and Hospitality Jobs
Cruise ships are all about excellent service and luxury, so cruise ship waiters, kitchen staff, bartenders and bedroom stewards are extremely valuable on a cruise ship. Find out about these excellent tip earning jobs and learn how to procure one with the descriptions and information available on our service and hospitality pages.
Deck Jobs
Deck jobs on a cruise ship include all positions that contribute to the running of the vessel. This can include purser jobs, maintenance workers, engineers and deckhands. These can be some of the highest paying jobs on a cruise ship. Find out more now!
Corporate Jobs
Every cruise line has a corporate office. And those corporate offices are staffed by people who handle everything from marketing and sales to accounting and human resources. These are shore-based positions.
When considering employment within this industry, bear in mind that the availability of positions at sea may vary depending on a ship's size, its itinerary, and to some extent, the type of passenger the cruise line attracts. Job hunters should explore all opportunities for employment onboard a cruise ship.