At the Airport in Taiwan
Flying via Hong Kong
Many prospective teachers fly from the United States or Canada to Taiwan or Hong Kong on a twelve-month, open-ended round-trip ticket. Unfortunately, after a year elapses, these people often find themselves wanting to extend their stay. Unless they can sell the return portion of their ticket, it is wasted.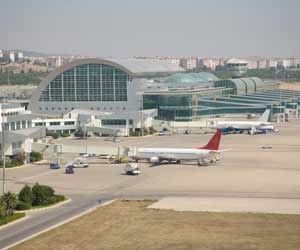 For this reason, unless you have a definite date of return, it is best to buy a one-way ticket to Hong Kong and a round-trip ticket from Hong Kong to Taiwan. The return ticket to Hong Kong will serve as the required "onward ticket" out of Taiwan. If you decide to stay in Asia for more than one year, you won't have to waste a return ticket home.
Relatively inexpensive return tickets can be purchased in Hong Kong. Many Westerners travel throughout Asia after they finish teaching and some even cross Siberia to Europe on the Trans-Siberian Railroad.
Customs
On the plane, you'll be asked to complete a customs declaration and to provide an address in Taiwan. If you don't have a set destination, use the address of the Mandarin Training Center, which is listed in the "Studying Chinese" section.
After Customs, the information counter staff can be very helpful. They offer information on getting from the airport to downtown Taipei and give out accommodations brochures and domestic travel literature. You'll also want to exchange a few dollars into New Taiwan Dollars (NT$).
Getting into Taipei
Downtown Taipei is about twenty-five miles from Taiwan Taoyuan International Airport. Taxis into town are expensive, but bus companies offer regular service into the city. All the buses tend to run by major hotels and hostels en route. There are also express buses running to the airport. One runs from in front of the Taipei Railway Station and the other from the western end of Songshan Domestic Airport.