Surabaya City Profile
Surabaya is Indonesia's second-largest city and, though industrial, doesn't seem to be quite as run-down as Jakarta.
It's also a convenient jumping-off point for those wishing to skip the filth of the larger city and head straight for Bali and points east. There is official Surabaya tourism information on this website.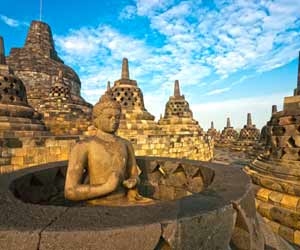 Population
3.2 million
Location
Surabaya is on the northeastern coast of the island of Java. It is the capital of the province of East Java. A trip to Jakarta takes about fifteen hours by train.
Weather
Surabaya is hot and muggy, with daily downpours during the wet months.
Transportation
Although it is not serviced internationally, Surabaya is accessible from other cities in Indonesia by air, buses, minibuses, boats, ferries, and trains.
The inner-city bus system is extensive and cheap. The city is also well-served by taxis and becaks, which aren't allowed on the main streets.
Places of Interest
The Surabaya Zoo features nocturnal and exotic animals, and for those with a cultural bent, the East Java Ballet Festival is not to be missed. Other sights include the Kong Co Kong Tik Cun Ong temple, the Mesjid Ampel mosque, and the Taman Hiburan Rakyat amusement park.
Safety Issues
Be on the lookout for pickpockets, and take extra care in crossing the streets. Traffic is thick and fast, and drivers are not known for their friendliness to pedestrians.