Applying in Person for Casino Employment
Unless you're very fortunate, just sending a resume via snail mail to a casino employment office from the comfort of your living room thousands of miles away will not be enough to get you hired. Of course, the best way to apply these days is through the employer's online application system.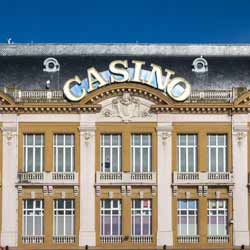 As mentioned earlier, a lot of the gaming venues around the country look to hire applicants who already live in the area or come from nearby communities. They realize that entry-level jobs have high turnover rates for the most part and cannot invest the costs to relocate someone for such a position. They also want some assurance that the applicant is serious about working in the industry. What better way to say, "Hey, I'm ready" than to be at their door in person. According to a former marketing director, who worked in Las Vegas at various casinos for fifteen years, the way to get into this business is to follow what she describes as a pack-and-go approach:
If you want a job in this business, particularly in Vegas, the best thing is to just go. Force yourself to do it. Just start working anywhere. You don't have to work in the best place right off because there is always room to transfer and move up. That's what everyone does in Vegas. I mean I changed jobs almost every two years. Everyone does it. There's no stigma attached to moving around, jumping from job to job. That's just the way the business works.