Guide to Biloxi, Mississippi
Editor's Note: Hurricane Katrina in 2005 devastated Biloxi but the city rebuilt and is thriving again. The Deepwater Horizon oil spill disaster in 2010 also impacted Biloxi and its coastline.
Twenty-six miles of white-sand beach, gentle waters, affordable living, and French Louisiana influences. She may not be the prettiest town on the Gulf Coast, but what Biloxi, Mississippi, lacks in looks, she makes up for in charm and affordability.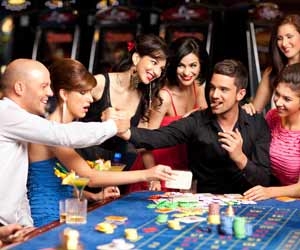 The third-largest city in Mississippi, Biloxi (Bi-LUX-e) offers the easy pleasures of the Gulf of Mexico and is within easy driving distance of New Orleans and Mobile, Alabama.
Biloxi is the oldest continuous settlement on the Gulf Coast, dating back to 1699. It's named for the Biloxi Indian tribe and was home to Fort Louis, capital of French Louisiana, until the capital was moved to New Orleans in 1722. During the Civil War, gutsy Biloxi residents resisted a Union blockade and defended themselves with what appeared to be a formidable array of cannons, but what was really just two cannons and many logs painted black. After the war Confederate president Jefferson Davis lived out his final years in his Biloxi mansion, Beauvoir.
Biloxi has been a popular resort destination since the 1840s. Today, visitors can try their luck at eleven casinos or enjoy the year-round sunny weather at one of twenty first-class golf courses in a thirty-mile radius. A local calls Biloxi a retiree's paradise because of its reasonable cost of living, recreational opportunities, and warm weather. Biloxi's beaches are clean and mostly quiet, and the waters are calm – the Barrier Islands protect the inland shore from storms and high waves. Clean and safe, the Gulf Coast waters also are ideal for jet skiing and sailing, and anglers can try their luck at freshwater, saltwater, and deep-sea fishing or hauling in crab, flounder, and millet.
So fruitful are the Gulf Coast waters that Biloxi's local economy has been based on shrimp, oyster, and fish harvests since the 1870s. This may be a tourist town, but the sight of local fishers unloading their catch in Small Crafts Harbor is an everyday occurrence.
The economy draws most of its energy from the fishing industry, and residents take advantage of five public school districts, as well as a selection of private schools. For continuing education, six colleges and vocational training schools dot the region. A big plus for those seeking casino jobs, Biloxi is home to two casino academies, where future dealers can learn the tricks of the trade.
Away from the neon-lit business strip, residents of Biloxi live on streets lined with blooming magnolia, camellia, azalea, rose, and crepe myrtle. Mighty oaks tower overhead, dripping with Spanish moss.
Remnants of the pre-Civil War South linger in the half-dozen plantation homes in the area.
Being so close to New Orleans and claiming a French heritage of its own, Biloxi offers much of the charm of its bigger sister to the east without all the expense. Restaurants provide a range of Creole and Cajun food and the community hosts its own Mardi Gras festival every spring. Unique to the Biloxi area are two artists' communities at Pass Christian and Ocean Springs. The artisans display their efforts at local museums. Biloxi is a year-round community with a calendar filled with celebrations, parades, and even fishing rodeos.
Biloxi Casinos
Vital Stats
Location: Biloxi is 75 miles east of New Orleans. The city rests along the shores of the Gulf of Mexico.
Population: 46,319
Average summer temperature: 75° F
Average winter temperature: 52° F
Phone Numbers of Note
Biloxi Visitors Center: (601) 374-3105
Gulfport Visitors Center: (601) 374-3105
Biloxi Bay Chamber of Commerce: (601) 435-6149
Harrison County Tourism Commission: (800) 237-9493
Mississippi Gulf Coast Convention and Visitors Bureau: (800) 237-9493
Mississippi State Employment Services: (601) 864-1771
Mississippi Gaming Commission: (601) 896-1496 or 896-6111
Newspapers and/or relocation publications: Biloxi-D'Iberville Press, (601) 392-3307; Real Estate News, Inc., (601) 392-8382
Inexpensive accommodations: Days Inn, (800) 526-5656; Econo Lodge, (601) 374-7644; Economy Resort Inn, (601) 374-8888; Travelodge, (601) 388-5531; Biloxi Youth Hostel, (601) 435-2666; Biloxi Beach Campground, (601) 432-2755
Air service: Gulfport-Biloxi Regional Airport, (601) 863-5951 (also Mobile Metropolitan Airport and New Orleans International Airport)
Bus service: Greyhound, (800) 231-2222
Rail service: Amtrak, (800) 872-7245
Public transit: Gulf Area Transit, (601) 896-8080