How the Casino Industry Gained Respectability
The gaming industry, in general, holds the equivalent of a royal flush in terms of growth, marketability, and respectability, especially in good economic times. Gambling fever spread so fast in the late nineties and early 2000s that legalized gambling is now available in nearly every state.
Currently, all but two states allow casino gambling in one form or another in the form of either casino riverboats and/or land-based casinos.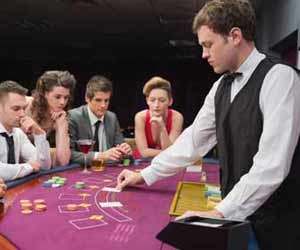 A huge portion of gaming's increase in popularity and success has come from Native American reservation gambling operations, or what is commonly called Indian gaming. Through recent changes in state and federal laws, tribal nations now have the legal latitude to offer a variety of betting games on federally recognized reservations. This change has brought a flood of new casino operations to these lands, some by big-name operators such as Harrah's and Boyd's Gaming Corporation. Riverboat gambling is also back in vogue. Cities up and down the Mississippi and Missouri Rivers are inviting casino operators to set up shop on either floating barges or actual boats making regularly scheduled trips into open water.
Even Las Vegas, the industry old-timer, is seeing sweeping changes. Once a haven for organized crime, the city's casinos have evolved into publicly-traded major corporations with an emphasis on family entertainment and values. This, coupled with the Nevada State Gaming Commission's crackdown on illegal activities, has noticeably elevated Las Vegas' reputation. During times when the economy is performing well, job growth in Las Vegas casinos follows suit.
At one point, the results of a DRI/McGraw-Hill economic forecasting report found that job growth in the Las Vegas area was significantly higher than in other metropolitan areas across the United States. Sin City's annual rate of growth was an impressive 3.5 percent, while other urban areas were experiencing a rate closer to 1.6 percent.
Operations expanded in some of Nevada's other cities as well. Sparks, Carson City, Henderson, and Laughlin experienced renewed vitality due to the gaming industry, too. Again, when people are prospering so does the casino business! Beyond Nevada, new gaming centers are busting on the scene. Places like Cripple Creek, Colorado, and Deadwood, South Dakota, have been known to draw huge crowds to their casinos when the economy is booming.
Overall, the industry remains poised to do well especially as the economy starts to rebound. That's why now is the perfect time for you to jump into the game. Consider throwing your hat in the ring and being part of the action.