Cruise Line Casino Companies
Below you will find a list of companies that operate casinos on cruise ships.  This would be a good place to start if you are looking for a cruise ship job.
Holland America Line Casinos
This line offers Las Vegas style action to both the experienced casino player and the novice. Most ships in its fleet have ultra modern casinos.
Some casino options include: table games like Blackjack Roulette, Caribbean Stud Poker. Let it Ride and Craps, slots, bingo, lottery and tournaments where one can play and win the Megacash jackpot, which is the biggest anywhere and linked to dozens of cruise ships worldwide.
Crystal Cruise Line Casinos
Known for its complimentary cocktails, the Crystal Cruise line is the first to partner with a major land-based casino company like Caesars. Each of its elegant casinos offers blackjack tables, three-card poker, mini-baccarat, dice, roulette, and more than 85 slot machines.
Carnival Line Casinos
By far the largest cruise line, its fleet of more than 22 ships and casinos are some of the largest that sail the seven seas. Table games include roulette, craps, Caribbean stud poker, Caribbean draw poker, three-card poker and slots in addition to traditional blackjack. The Carnival Glory Casino is for serious players only and one can find Blackjack tables with a $25 minimum and a $500 maximum. Carnival also offers craps with double odds (most lines offer single odds). The Ocean Players Club promises something for everyone, no matter what their level of expertise, from rewards for playing slots to generous extensions of credit lines and higher betting limits for high rollers. Players can earn points towards complimentary beverages, free gifts, discounts for onboard services, future cruise benefits and even cash back rebates on future cruises.
Casino Tours, Ltd.
Generous comps available (stateroom and guest sharing room) for the true "high roller" with a minimum front money deposit or established credit line of at least $10,000 and $15,000 on cruises over seven days. According to Casino Tours, the only cost to players are the port charges, any air transportation and a travel agent's booking fee of $50.00 per person.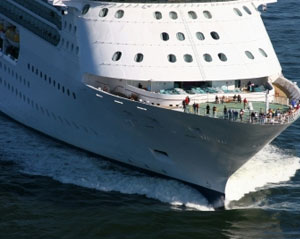 Costa Cruises Casinos
All of the Costa ships offer blackjack tables, a poker table and miscellaneous other table games as well as roulette and slots.
Several ships have casinos designed for the European market since they remain in the Mediterranean all year round. This makes them a bit smaller than casinos on the same class Carnival ships, but they contain many roulette tables and slots. Members of the Ocean Players Club, which was pioneered on Carnival Cruise Lines ships, can request that they be rated when playing table games in Costa cruise ship casinos.
Celebrity Cruise Line Casinos
The Fortunes Casinos on the three smaller ships on the line, The Mercury, The Century and the Galaxy, are all very similar. They have one fewer poker table than their larger counterparts and a few dozen less slots. The line's smallest ship, the Zenith, has only 143 slots and about the same number of table games as its larger sister ships.
Cunard Lines Casinos
Cunard's ocean liners are perhaps the best known in the world – Queen Mary 2, Queen Victoria, and Queen Elizabeth. They sail across the Atlantic from Southampton to New York, and each provides a tremendous gaming experience.
MSC Italian Cruises Casinos
Vessels in the MSC fleet boast of a casino and shipboard ambiance unlike other casinos due to their true Italian service, which offers the finest hospitality afloat the seven seas. Their games, however, are standard fare and include blackjack, poker and roulette, as well as slots.
Norwegian Cruise Line Casinos
NCL casinos are filled with traditional games of chance including baccarat, blackjack, craps, roulette, Caribbean stud poker, 3-card poker, Texas Hold 'Em, Pai Gow poker and tiles, Oasis poker, video poker, mystery jackpots, and 24-hour slot machines ranging from one cent to $100. This cruise line was the very first to offer a rewards program similar to those offered by most "land-based" casinos.
Players earn "Sea Bucks" when playing either table games or slots. These bucks are based on amount of time played, the type of game, and the average bet. Once a member has reached a minimum of $25 in points, these Sea Bucks can be used as payment of onboard items like food and beverages, shore excursion packages, or the Sea Bucks can be accumulated and used toward payment for a future cruise. They expire 18 months after they have been earned.
Oceania Cruises Casinos
This line is comprised of mid-size ship. They all have small but very lively casinos that offer more than 40 slot machines and table games such as blackjack and roulette. None of the casinos on the Oceania line has a craps table. Also, smoking is not allowed anywhere in the casino on any of the Oceania ships. It is suggested that the casinos are oriented more to casual rather than serious gamblers. Century Casinos, a Colorado-based company that owns casinos in Colorado and South Africa operates all the Oceania line casinos.
Princess Cruises Casinos
A very popular cruise line among many upscale travelers, the company has doubled its fleet in the last three years. All the traditional table games with Vegas-style rules and a variety of slots including video poker and novelty machines are available. Many of the slots have progressive jackpots as well. Passengers may charge up to $1,500 per day or up to $5,000 per cruise to their onboard account for casino use. Although the Ocean Players Club was first featured on Carnival Cruise Lines ships, those members playing table games aboard Princess cruise ship casinos can be rated and even earn points that can be used for discounts on future cruises or cash back rewards.
Regent Seven Seas Casinos
This cruise line is a leader in luxury cruising. The three ships on the line, the Seven Seas Voyager, the Seven Seas Mariner and the Seven Seas Navigator all run casinos that are operated by Casinos Austria International. They all offer blackjack, poker, roulette and slot machines.
ResidenSea Cruises Casinos
There's only one ship, the World, and it has a small casino operated by Century Casinos, which is the same company that operates the casinos aboard SilverSea's and Oceania ships. To date, there have been no official reviews concerning this casino.
Royal Caribbean Casinos
This line boasts of the world's largest cruise ships. Their Las Vegas-style casinos are among the largest found anywhere. They feature 19 gaming tables and over 300 slots. The line's Voyager class ships are smaller, but their casinos are always alive with action. These ships feature 16 gaming tables and just under 300 slots. The Players Club is now available on this cruise line, and qualifying players can enjoy complimentary drinks in the casino. High rollers, based on performance, can now partake of expense-paid blackjack and slots tournaments.
Sea Dream Yacht Club
The two luxury ships, Sea Dream I and Sea Dream II, were each originally equipped with a tiny "casino" which consisted of one blackjack table, one poker table, and five slot machines when they were refurbished in 2002. The slot machines were subsequently removed and the poker table is used on some cruises as a second blackjack table. Reviews have been disappointing at best.
Seabourn Cruise Line Casinos
The ships that comprise this line have tiny casinos. They offer three table games; blackjack, ocean poker and roulette and nine slots.
Windstar Cruises Casinos
This represents the only cruise line whose three sailing yachts offer casinos. The largest yacht, Wind Surf, has three blackjack tables, a roulette table and 21 slots. The other two ships, the Wind Star and the Wind Spirit have two blackjack tables and 11 slots.
If you are looking for a cruise line job, we recommend you check out our cruise line job section.