On-the-Jobs: Race and Sports Book Supervisor
Zachary Montoya feels that he was quite lucky to have landed his present position as Race and Sports Book Supervisor at Caesars Tahoe. Not only does he love sports and horse racing, but now he is involved with both every day. He enthuses, "My job keeps me updated. I know the latest happenings in race and sports so when I go out with friends, they all ask me for the inside scoop."
When I first started with Caesars I was a keno writer. I was still a keno writer when they started introducing me to sports writing. And when I was promoted, there were probably other people who had more hands-on experience, but my boss saw something in me that would be useful right away. He figured that the other detailed stuff I didn't know I would be able to pick up along the way. Race and sports is something I grew up with anyway, especially participating in, watching, and going to games. So when I received the title of race and sports book supervisor, the transition was not too difficult.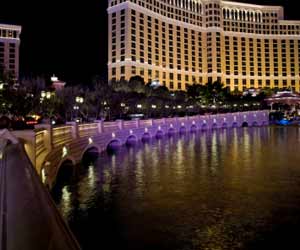 I'm mainly in charge of race writers, sports writers, and cashiers. Writers are usually on eight hours a day but my schedule can vary. Racing runs from 9 am in the morning to 1 am the following morning. During the week no more than two supervisors are on at one time, and usually six or seven race writers and two cashiers. Writers take in money and write tickets. The customers indicate what they want and the writers then punch the buttons on the machines to generate tickets. Cashiers do nothing but pay out winnings. But soon Caesars will have state-of-the-art machines that will be able to cash tickets. Then everyone on the counter will be able to write and cash tickets, so the cashiers will, in effect, become obsolete.
Training in our department is all on-the-job, but things are fairly simple. All we need to know is what a customer wants. There are different ways to ask for the same thing, so much of the training involves learning the terminology. Once you've got that down, you've won half the battle. We have writers who could care less for racing, yet they are some of our best writers. They understand what the customers want, and they know how to punch in the tickets correctly. Being an expert in sports or racing obviously helps, but we primarily deal with people, so a race and sports book employee needs good communication skills. That's probably one of my strongest points.
During race times it's hard for writers to interact with customers. If there are only two minutes to the race and 50 people are in line, a writer has to get them in and get them out. A writer basically has to say to the customer, "What do you need?" It sounds rude but it's understood in the book. No one takes it personally, and nothing is meant personally. It's the nature of the business. And we truly root for the customers to win. We are on a parimutuel system, which means we get a flat percent commission from our contract with the track or tracks. Say, for instance, in one day we write $100,000 worth of race tickets and pay out a million dollars in winnings. Not only will the tracks pay us back our million dollars but also a flat percentage of the $100,000 we wrote out, depending on the contract. And since we can't lose, we sincerely hope customers win. We figure the more they win, the more they will tip. Customers usually tip the cashiers since they are the ones who pay the bettors. Some customers will go down the line and tip some to the writers, too.
You meet and see many famous people working in the book, especially as a supervisor. I get to talk with locals, out-of-towners, horse owners, jockeys, track announcers, trainers, sports celebrities, and ex-ballplayers. During the celebrity golf tournament in Lake Tahoe, we see soap stars, country stars, hockey stars, basketball players, and football players like John Elway, Joe Namath, and Dan Marino. During that time of the year it's a who's-who in entertainment and sports. And it's great having an owner of a horse in our book watching his horse run the race. We get excited and want that horse to win.
But it's not all fun working in the race and sports book. One of the most difficult things about being a supervisor is trying to explain the rules to novice players.
Often when they make a wager they have been coached by a friend, but they really don't understand what they are doing. When a wager doesn't come out the way they expected, they might say that was what they were told. Or often the customers will ask the writers questions and say they understand when they really don't. Later when they go to cash their tickets they may say, "Well, the writer told me this." It is tough for the supervisor to say, "I'm sorry. I'll talk to the writer," but we can't really disagree with the customers even though we know that it probably wasn't the writer's fault. We generally get the novice players during large events like the Super Bowl, World Series, NBA Finals, Kentucky Derby, or the Breeder's Cup. Those times are when it's the most hectic in the book. During the Super Bowl we have four sports writers. If the Bowl takes place at 3:30 in the afternoon, we have a full staff at 11:30 am up until kickoff. So for four solid hours the place is just packed. Writers go for four hours straight, but there are only a few days out of the year like that.
So there's a lot of pressure for writers, too. When race time comes, or what we call post time, we expect our employees to be fast and extremely diligent. Fortunately there are a lot of slow times, too, and we let everybody mellow out. Our writers structure their own breaks. They each have an hour, and they break it up any way they choose. We believe they know the nature of the business and the important times they should be there.
We don't get many applicants that already have experience working at a track or at other books. Some of our writers have little or no experience, especially in the race side; 75 percent of our employees have probably never even been to the track. Most of our applicants come from a general pool that human resources gathers, or they are referrals from current employees who have friends moving to the area. On the whole I feel that a college education is not really necessary to work in the book. You could be a Rhodes Scholar and not have what it takes for the race and sports book. Our biggest concern is reliability, honesty, and maturity. Having a good head for figures is helpful too. If an applicant comes in with some of those qualities, we can teach him the rest.