Casino Dealer Schools
For many entering this profession, the route to success will include a stop at the local dealer school. These schools employ instructors who are licensed to teach gaming procedures to aspiring dealers.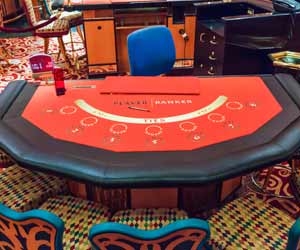 Enrollees usually choose one or two games to specialize in, learning the particulars of that game from the instructors and practicing with class members. Most schools offer flexible schedules, with day and evening classes. Admission requirements are also similar, with classes running from approximately four weeks for poker to about twelve weeks for craps. The better schools will have aggressive job placement services and offer tuition assistance or accept financial aid. Costs vary depending on the length of the class and game procedures being taught. Be prepared to spend anywhere from $500 for a short session on blackjack dealing to $2,000 or more for extensive craps training. In Nevada enrollees must be at least 21 years old by the date they are scheduled to graduate from the dealer school. (You must be 21 or older to work in Nevada's casinos.) These guidelines are similar for New Jersey dealing schools, since you must be 21 or older to work in Atlantic City casinos.
Courses typically cover all aspects of dealing. Students learn how to handle cards and other game equipment, how to take bets, and specific rules of the game. Most schools create an atmosphere similar to what you would find in a real casino, using authentic tables, chips, and other professional equipment. Some will even simulate high-stress situations with lights, noise, and perhaps the instructor even acting as an overly abrasive player. Upon completion of the class, students should have gained sufficient knowledge and skills to be employed in a casino.
The following is a list of professional dealing schools in or near some of the main gaming areas in the country. This list was verified as accurate at the time it was published; however, occasionally dealer schools will change names, phone numbers, move, or even go out of business due to poor management.
For more information on classes provided and their costs, contact the schools listed below directly or look in your local phone book under "schools/vocational training" for ones in your area. You may find additional schools have recently opened as well because of the current expansion of this industry. Remember, casinos do not require that you attend a private dealer school. Hiring managers only need to know that you are capable of dealing in a professional manner.
For more information on the schools and services listed below, contact the institution directly.
California
Casino by Fitz Poker School
Phone: (310) 640-9708
Casino College of Los Angeles
Phone: (213) 380-9400
Website: www.losangelescasinoschool.com
Casino Dealer College
Phone: (888) 28-POKER
Website: www.casinodealercollege.com/
Notes: Many locations, including Phoenix, Fresno, Denver, Detroit, Los Angeles. See website for more information.
Casino Dealers Academy
Phone: (619) 502-1878
Website: www.casinodealeracademy.com
Casino Gaming Institute
Phone: (609) 646-5122
Website: www.casinogaminginst.com
Jack Black Casino Dealer Schools
Phone: (626) 968-3121 and (909) 877-5678
Website: www.jackblackonline.com
Mt. View National Bartenders School and Casino College
Phone: (650) 968-9933, (800) 556-6499
Website: www.ideal21.com
National Bartenders and Casino Dealers
Phone: (619) 591-4300
National School
Phone: (619) 461-2800
Website: www.nationalschools.com
Notes: Culinary training with some casino chef placements.
Quality College (Casino Gaming Seminar)
Phone: (559) 497-5050
The Casino Institute
Phone: (619) 741-2200
Locations: San Diego and El Cajon
Website: www.thecasinoinstitute.com
Colorado
Casino Dealer School of Colorado
Phone: (303) 937-6229
Personalized Casino Instruction
Phone: (720) 299-3873
Notes: Personalized teaching for $20/hour.
Florida
Casino Career Institute
Phone: (561) 596-2188
Website: www.floridacasinocareers.com
Pinnacle Gaming
Phone: (954) 966-5056
Website: www.pgidice.com
Louisiana
Crescent City School of Gaming & Bartending
Phone: (504) 822-3362
Website: www.dealingschool.com
Notes: Locations in Las Vegas, New Orleans, Tunica, and Gulfport.
Michigan
Casinos Wild, Inc.
Phone: (313) 274-2850
Website: www.casinoswild.com
Missisippi
Casino College Dealer Training School
Phone: (662) 363-3300
Website: www.casinocollege.net
Crescent City School of Gaming
Phone: Gulfport, (228) 822-2444, Tunica, (662) 363-9999
Website: www.dealingschool.com
EZ Learn Casino Training
Phone: (228) 396-2103
Nevada
A+ Institute of Gaming
Phone: (702) 650-3043
Casino Creations
Phone: (702) 871-1299
Website: www.casinocreations.com
CT Dealer School
Phone: (775) 287-5159
Community College of Southern Nevada
Phone: (702) 651-4533
Website: www.csn.edu
Crescent City School of Gaving and Bartending
Phone: (702) 458-9910
Website: www.dealingschool.com
Let's Make A Dealer
Phone: (702) 456-3325
Website: www.letsmakeadealer.com
Nick Kallos' Casino Gaming School of Nevada
Phone: (702) 893-1788
Website: www.learntodeal.com
Reno Tahoe Job Training Academy
Phone: (775) 329-5665
A PCI Dealer School
Phone: (702) 877-4724
Website: www.pcidealerschool.com
New Jersey (Atlantic City area)
Boardwalk and Marina Casino Dealers School
Phone: (609) 344-1986
Casino Careers Institute
Phone: (609) 343-4848
Website: www.atlantic.edu/conted/
Casino Gaming Institute
Phone: (609) 646-5122
Website: www.casinogaminginst.com
English Creek Dealer Academy
Phone: (609) 383-2444
New Mexico
Casino Dealer School
Phone: (505) 830-2696
Website: www.casinodealerschool.net
New York
Big Deal Casino Academy
Phone: (212) 254-3325
Website: bigdealcasinoschool.com
Facebook: www.facebook.com/BigDealCasinoAcademy
Niagara Gaming Academy
Phone: (716) 510-1090
Website: www.nycasinoschool.com