Potential Benefits of Working in a Casino
In what other business can you conceivably make a quarter of a million with the flip of a card or the drop of some coins during your off hours?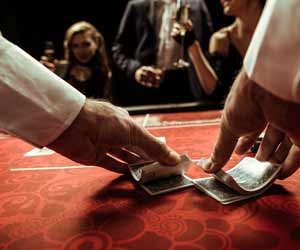 If you enjoy playing games of chance, being surrounded by them, breathing in the air of instant wealth they bring, this is your nirvana! The potential to make a small fortune is very real, especially as you hone your skills and increase your chances of a big payoff by playing smarter. But even if you don't bet at all – the only time you see the inside of a casino is when you're working and therefore, can't wager – you still can walk away with a fair amount of money at the end of the day. For dealers and other customer support staff, the name of the game is tokes. This is what chips, wagers, and cash tips left by customers are commonly called by casino employees, and they usually make up a substantial portion of a dealer's income. That amount typically ranges from $100 to $300 a day for dealers at the best properties in town.
We've even heard reports of dealers making $300 to $600 in a single night! On average the yearly income for top dealers at these types of properties is around $35,000 to $40,000. Even at the smaller casinos, a dealer working a busy day can bring in more than $75 in tokes. Add that to the employee's hourly wage and you see how quickly the earnings can add up. As one seasoned employee mentioned,
If you are interested in making money, the casino floor is the place to be.
In addition most employees receive a standard benefits package that includes medical, dental, and vision coverage, as well as a 401(k) pension plan after being employed for six months to a year. Many employees working at larger casinos with restaurants get their meals free while on duty, and paid vacation is offered to employees after a certain amount of hours has been accrued.
Another nice benefit offered by some casinos, especially those in Atlantic City, is an education assistance program. Through this program full-time employees are offered educational assistance or even full reimbursement for classes that directly relate to their current position or their potential growth within the company. Such a benefit could mean thousands of dollars off the cost of getting a degree.