Photographers at Casinos
Besides legalized gambling, Nevada has some of the most liberal marriage and divorce laws on the books. By now surely everyone has heard of Las Vegas' famous chapels of love, offering quickie weddings complete with music, flowers, and a champagne toast.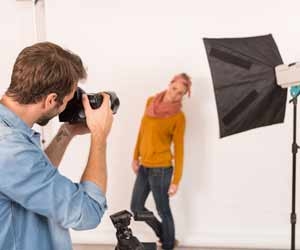 One even boasts ceremonies officiated by Elvis impersonators. In a typical year in Clark County, which includes the city of Las Vegas and other communities in the southern tip of Nevada, over 80,000 marriage licenses will be issued. Even celebrities, who could choose to be married anywhere in the world, have found Vegas' no-hassle wedding chapels the perfect way to say, "I do." Notable nuptials include those conducted for Michael Jordan, Joan Collins, Mickey Rooney, and Bruce Willis and Demi Moore.
What does all this mean to you, the enterprising photographer? Many of these small wedding chapels provide photos and videotape services to couples at an extra cost, using either staff or freelance photographers and videographers. If you have previous experience photographing weddings or other official ceremonies, you might want to consider investigating this opportunity.
In addition to all the love in the Nevada air, Las Vegas, Reno, and especially the Lake Tahoe area provide plenty of natural beauty for the camera lens. Freelance photographers often do quite well supplying travel brochure images and other marketing/advertising photos to public relations companies. A few of the bigger resort hotels also use either staff or freelance photographers to help with marketing pieces and to, of course, photograph all those big winners. On the East Coast, Atlantic City would be another area to consider for freelance photography opportunities.