Casino Floor Positions
The following descriptions pertain to dealing and casino floor support staff positions. These profiles represent a composite view taken from a variety of sources, including interviews with people who worked these jobs. Almost all positions will require employees to wear some sort of uniform, the nature of which is determined by the casino's overall theme.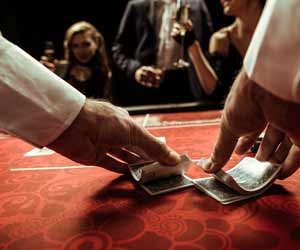 Both men and women will need to adhere to strict dress codes while on the job that will typically include no unusual hair color, no ponytails for men, no visible tattoos, and minimal jewelry.
The exact responsibilities and duties of the positions described may vary, depending on the needs of each individual casino, but the basic parameters remain the same. Job titles, too, may vary slightly from casino to casino. For example, the position of delivering change to customers may be called "change person" at one casino and "floor change attendant" or just "change attendant" at another.
To best serve the needs of those who are looking to break into this industry, we have concentrated most of our attention on entry-level jobs. However, you should be aware that there are also many different supervisory positions available. For example, in the cage area entry-level cashiers answer to lead cashiers, who report to cage supervisors, whose work is overseen by the casino manager, controller, and other financial directors. For those with the proper drive and dedication, many opportunities for advancement exist due to the layers and layers of supervisory personnel in this business.
The best approach to take as a prospective applicant is to visit the employment pages on casino websites, where you can browse the latest job postings and apply online.
Casino Security Jobs
Baccarat Dealers
Bingo Callers and Floor Workers
Blackjack Dealers
Cage Cashiers
Casino Floor Jobs
Casino Hosts
Casino Managers
Change Attendants
Craps Dealers
Hard Count Attendants
Keno Writers and Runners
Pai Gow Dealers
Pit Clerks
Pit Supervisors/Managers
Poker Dealers
Race and Sports Book Cashiers
Race and Sports Book Ticket Writers
Roulette Dealers
Slot Hosts
Slot Technicians
Surveillance Officers
Uniformed Security Officers