Non-Native American Casino Workers
A few years back National Indian Gaming Association officials disclosed that tribal gambling has directly or indirectly created 593,000 jobs, mostly for non-Native Americans – in just one year.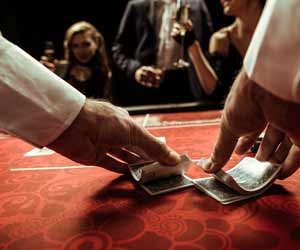 While small-scale bingo halls run by Native American tribes have been popular for some time, it has only been in the last ten years that the large-scale, ultramodern casinos have come on the scene. And for the most part it is at these types of establishments that employment opportunities exist, especially for those with little or no professional casino experience. Native American Indian tribes give hiring preference to their members and spouses, but in many cases, the number of job openings outstrips the number of interested tribal members. As a result, the hiring managers must look beyond the reservation for personnel to fill the positions. For example, the Mashantucket Pequots have 350 tribal members, but they employ over 11,000 people at their Foxwoods Resort Casino.
For many in this economically depressed region in southeastern Connecticut, the casino represents an opportunity to get off of unemployment and back into the work force. In Minnesota almost 10,000 people work at the many Indian gaming casinos throughout the state. Out of that figure, 75 percent are non-Native Americans. In Wisconsin over 44 percent of the employees at Indian gaming casinos are non-Native Americans.
Some tribal casinos have subcontracted their operations to larger, established companies during the start-up phase. This may be necessary if the tribe has limited experience with gaming and needs training support. While the casino may even use the name of the subcontractor instead of its tribal name in advertisements and other public promotions, it still falls under the special regulations as defined by the Indian Gaming Regulatory Act. Traditional casino companies generally welcome the opportunity to work with Native American tribes.
Often they receive a portion of the profits generated, which at some places can be substantial.
As an employee you should expect to be treated in the same manner as anyone else working at the casino, although some have reported cases of discrimination against non-Native Americans. Others, however, refute that contention, saying they have never encountered anything except respect and professionalism while employed at an Indian gaming casino. We suspect that Indian gaming casinos reflect traditional casinos, in that there are both good and bad places in which to work. Only you as the employee can make the final decision in determining what constitutes acceptable working conditions and what does not.