Top 10 Strategies For Building Trust With Employees
Do your employees trust you? Trust is an important part of every successful business. Building trust with employees is an ongoing process that requires you to be a reliable and confident leader.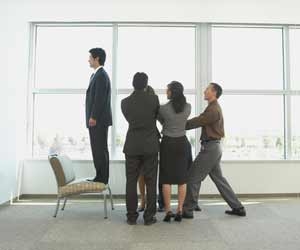 It takes time to build trust in the workplace and it's a something that needs to be at the top of your to-do list. Trust can inspire your workers, increase motivation levels, boost productivity, and encourage engagement. Luckily, it's easy to build trust with employees, but it's even easier to lose that trust.
Hopefully you hired someone that you trust. Now it's time to ensure that that person also trusts you. As a leader, it's up to you to build and maintain trust in your workplace.
Apply these strategies for building trust with employees:
Be Consistent – Consistency in the workplace eliminates the unexpected and puts your team at ease. They know what to expect and that helps them to do their job in a stable environment.
Stay True To Your Word – If you say you are going to do something, then you need to do it. When you follow through with what you say you will do, it will build respect and trust.
Accept Responsibility – Whatever happens in the workplace, you need to take responsibility. Learn from your mistakes and fix them. Set an example for your employees.
Connect With Your Employees – Go out of your way to get to know the people on your staff. Strike up a conversation with them about life outside of work. Create a genuine relationship that goes beyond the office environment.
Give Credit Where Credit Is Due – As the boss, you need to make sure that your employees get the spotlight when they do something great. Make sure they receive the credit that they deserve when they accomplish positive things.
Treat Everyone Equally – Never play favorites. Treat everyone on your team the same so that they feel like they are an active part of the team.
Encourage Team Building Exercises – Join your team in team building exercises and extra curricular activities so that you get to know them in different situations.
Open And Honest Communication – Always be transparent. Share the company's visions and goals so that everyone can work together to achieve the same thing. Tell you staff what's going on and why. When everyone is on the same page, it's easier to get things done.
Do The Right Thing – This should go without saying, but no matter what the circumstances are, you need to do the right thing. Be an example to your team so that they will follow in your footsteps.
Be Passionate – Passion for your job and your company is contagious. Show your team that you care about them, you care about the company, and you care about your job.
Do you notice anything about these strategies for building trust with employees? These strategies all coincide with the traits of great leaders. When you step into a leadership role, you need to live up to your position so that you can inspire and influence your team in a positive way. Leadership is an important skill that can take you far in life.
5 Fun Team Building Exercises To Try At The Office
Take the time to build trust in your workplace. Not only will it produce happy employees, but it's also one of the most important things you can do if if you want your company to be successful.