11 Job Interview Tips For Interviewers
During a job interview, you are interviewing the job candidate to see if they are the right person for the job. But a job candidate is also interviewing you to see if this is the right job for them. No pressure, but you better be on top of your game. Below we'll provide you with a few job interview tips for interviewers that will help you nail the interview.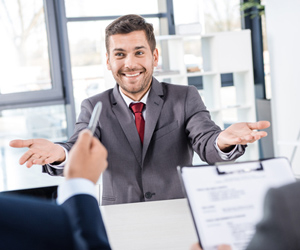 How To Conduct The Perfect Job Interview
As your first face-to-face interaction with a job candidate, the interview round is pretty important. It's amazing what you can learn when you conduct a proper job interview – culture fit, enthusiasm, personality traits, attitude, etc. When you conduct a great job interview, you'll be be more likely to hire the right person for the job.
Becoming a seasoned interviewer takes lots of practice. Hopefully the following job interview tips for interviewers will put you on the fast-track to interviewing success:
Invite The Right People – Not everyone gets an invite to the interview round. Take the time to read through resumes and cover letters to ensure that you only invite the best job candidates to the interview round. Skip this step and you'll waste lots of time.
Communicate With Job Candidate – Let the job candidate know what to expect. Tell them what they need to bring, where to go, etc. Give them the info they need to be successful.
Pick The Right Location/Type Of Interview – Decide what type of interview you want to conduct (in person, phone, video, panel) and choose a location that works well. Most interviews are conducted at your office, but it's okay to get creative.
Review The Resume And Research The Candidate – Do your research before the interview. Thoroughly read through the job candidate's application and resume. \Google the job candidate. Learn as much as you can about the candidate before you meet them.
Understand The Role Your Hiring For – Take the time to learn about the job you're hiring for. Find out what makes someone in this job role successful. Knowing this information will help to shape your interview.
Create A Relaxed Environment – Job seekers have a lot riding on the job interview. They are bound to be nervous. Develop the techniques to put them at ease and to try to really connect with the individual. Strive to create a genuine and authentic environment where people can be themselves.
Ask The Right Questions – A job interview is all about starting a conversation. Prepare a list of questions that dive into the things you don't know about the candidate. Open ended questions are smart because they will generate better responses. Be sure to avoid any illegal interview questions, but feel free to throw in a tricky interview question or two also!
Listen Carefully – It's easy to ask lots of questions, but don't forget to listen to the answers. Pay attention because you might even catch a job candidate in a lie.
Watch Body Language – A good chunk of communication is non-verbal. Watch the body language to gauge how the job candidate is thinking, responding, and feeling.
Tell Them What Happens Next – At the end of the interview, explain what happens next. Give them a rough timeframe for when they will hear back from you. Let them know if there will be other interviews or if they need to send you a portfolio. Don't leave them hanging.
Follow Up – After every interview, regardless of your ultimate hiring decision, follow up with the job candidate. This will enhance the candidate experience and that's good for your brand.
Review this list before every job interview you conduct. Hopefully these job interview tips for interviewers will help you to conduct great interviews every time. Good luck!
See Also: