10 Tips To Hire The Best Seasonal Employees
Do you want to hire the best seasonal employees? Of course you do. Whether your business needs extra help during the busy times or you're hiring for cool and seasonal positions, you need to hire great people. We all know that seasonal hiring offers it's own unique challenges, hopefully the following tips will make seasonal hiring easier for your business.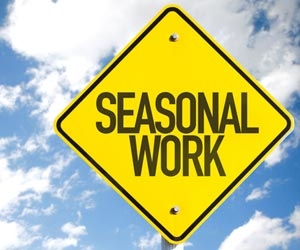 17 Creative Ways To Recruit Employees
Every year businesses in resorts, hotels, retail, tourism, and other niches face an increasing demand for qualified seasonal employees who are keen to apply for short term work. It's a situation that businesses face every season or every year, so it's best to be prepared.
If you want to hire the best seasonal employees, here are a few tips to get you started:
Start Early – Always plan ahead. Make a long term plan and create a strategy that works so that you can use it every year.
Do You Need HR Help? – HR is a year round job, but during the rush, you may need additional help.
Post Jobs Long Before You Need People – We all know that the hiring process takes time. Adjust your hiring timelines accordingly.
Reach Out To Returning Employees – Contact any employees who worked for you last year or last season as they may be looking for short term work again.
Know What You Are Looking For – Even if you are hiring short term employees, you can still be picky. Identify what skills, experience, and traits you want and need. Seek for job applicants that meet that description.
Focus Recruiting Efforts In The Right Places – Seasonal employees might be different that job seekers looking for full time, year round work. Recruit them in the right places. Focus on seasonal job boards, local sources, or employee referral programs.
Know Your Competition – The seasonal job market is highly competitive. Look into your competition to ensure that you can offer a package that will appeal to top talent.
Offer Perks – Discounts, passes, and other perks go a long way to attracting quality seasonal workers.
Invest In Training – Even though these workers are short term employees, you still need to train them to ensure that they can do their job properly and live up to the company's expectations.
Invite Them Back – After the season or rush is over, always invite your best employees back. Let them know they have a job waiting for them next year.
Don't let the hiring rush stress you out. There are lots of high quality, short term, seasonal employees who want to work for you. And don't forget that many of the best seasonal employees will want to stick around. Hiring short term workers will often result in your best full-time, year-round employees. It's kind of like taking a test drive.
Start early and implement your plan. With the right strategies in place you will always hire the best seasonal employees. When you can get the right people on board for your business, you'll be able to drive your company to the next level.
If you're looking for quality workers to fill your cool and seasonal jobs, JobMonkey is here to help. Learn how you can reach a massive audience of seasonal workers on JobMonkey right now.
See Also: