Do Your Employees Waste Time At Work?
Every company strives to boost productivity levels in the workplace, but it's nearly impossible for your team to be productive all of the time. Even when we try all the tips and tricks to keep employees focused, motivated, and energized, it might seem like your employees waste time at work.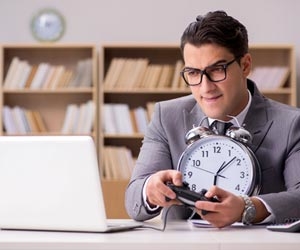 Workplace distractions cost companies both time and money. It's frustrating to watch your team waste time every day, but it's a challenge that every employer faces on a regular basis. According to TheMuse.com, workplace distractions cost employers billions of dollars every year. That's a scary number, right?
HR Issues That Every Business Deals With
How much do you think time-wasting employees are costing you? According to the Telegraph.co.uk, employees waste about 3 hours per day or 60 hours per month. We'll let you do the math as it pertains to your team…
Let's take a quick look at why employees waste time at work according to Paychex.com:
Lack of work – 22.5%
Easily Distracted – 19.15%
Unsatisfied With Work (Bored) – 14.85%
Work Long Hours – 13.55%
No Incentive To Work Harder – 11.3%
Due Ot Co-Worker/Boss – 7%
Stressed or Sleep Deprived – 6.55%
Low Wages – 3.15%
Lack of Time Off – 1.95%
In a post on Inc.com, the main ways (and a few ridiculous ways) that employees waste time at work include:
Cell Phone/Texting
Gossip
The Internet
Social Media
Snack Or Smoke Breaks
Noisy Co-Workers
Meetings
Email
Co-Workers Dropping By
Co-Workers Putting Calls On Speaker Phone
To run an effective and efficient business, it's your job to address these issues sooner than later. Here are a few solutions that you might want to consider:
Actively measure performance
Challenge each and every team member
Hire the right people
Reward success
Develop great leaders and role models
Give your team the tools they need to do the job
Don't blame your team when employees waste time at work. Instead find solutions to help them stay on task. It's your job to motivate and incentivize your team to ensure that they perform at their very best. Taking the time to recognize workplace distractions and addressing those issues will keep your team on the fast track to success.