10 Essential Steps In The Hiring Process
How does your company find new employees? It's far from an easy task, yet it's one that every business faces if they want to grow and thrive. Regardless of what size company you work for or what industry you operate in, there are several important steps in the hiring process that must be completed before you can hire a new employee.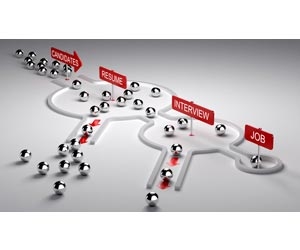 There are no major secrets to the hiring process. It's a series of simple steps that must be completed to ensure that you find the best person for the job. The following list is meant to get you started. Use it as a baseline that you can add and subtract from to create the ideal list of hiring steps for your business.
Below you'll find 10 essential steps in the hiring process:
Make A Plan – You won't make it very far without a plan. Determine what type of job you need filled and what type of employee you need.
Create A Job Description – Identify a bullet point list of the skills and responsibilities needed for the job. Write a detailed job description using keywords that appeal to your target audience.
Post and Promote Job Openings – Determine where you want to post your job openings – career sites, niche job boards, local newspaper, etc.
Review Job Applications – As the job applications start to flow in to your inbox or ATS system, it's time to actively review them. Scrutinize resumes, read through cover letters,  and nit-pick every application. This is the time to narrow the field of potential job candidates.
Conduct Job Interviews – Arrange interviews with the job seekers who make it through the job application round. Video, phone, and in-person interviews work well. Pick the type of interview that is most convenient and efficient.
Perform Talent Assessments – Always verify that a potential hire can do the job that they claim they can do. Give them tests that allow them to demonstrate their skill sets.
Run Pre-Employment Checks – These checks are a good filter to help you screen candidates:

Background Checks – Use a 3rd party to run background checks on each and every candidate.
Social Checks – Do a quick Google search and social media check to see if a candidate will represent your company in a professional manner.
Drug Checks – If necessary, make potential new hires take a drug test.
Reference Checks – Always call a candidate's references. It's amazing what you can learn from other working professionals.

Send Out Job Offers – After you determine your top choice, send out a competitive job offer. It's always possible that your job offer could be turned down, so be prepared to have a backup candidate (or two) ready to go.
Onboard New Hires – Once a candidate accepts the job offer, it's time for onboarding and hiring paperwork. This step is essential to properly categorize an employee and get them in to the system.
Train New Hires – Once an employee is part of the team, it's time to bring them up to speed on how your operation works on a daily basis. Always take the time to train your employees to ensure that they have all of the tools and skills to do a great job.
By no means is this a definitive list of the steps in the hiring process. Your company may have additional steps that they require. Use this list as a starting point to ensure the you complete the necessary steps in the hiring process. If you do, you'll increase the chances of hiring the right person for the job.
See Also: These Recruiting Facts And Figures Will Help You Make Better Hires