How Do You Celebrate Success In The Workplace?
People love celebrations. Everyone can agree that when positive things happen, there's reason to celebrate. We celebrate weddings, birthdays, anniversaries, graduations, holidays, and other special events. It's totally normal and expected, but do you celebrate success in the workplace?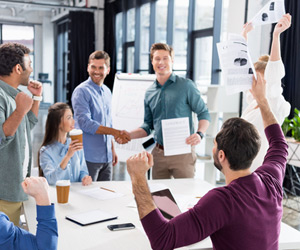 As a business you need to be proud of your employees, teams, and company when they achieve great things. These successes are major accomplishments and they ultimately boost your bottom line. Show your employees that you care by celebrating big events at work. Things that might deserve celebration include completing projects, reaching milestones, hitting goals, accomplishing individual achievements, closing deals, meeting financial goals, breaking records, or gearing up for the next holiday season.
Why Employee Appreciation Is Important In The Workplace
Google defines "celebration" as "the action of marking one's pleasure at an important event or occasion by engaging in enjoyable, typically social, activity." Office celebrations are a fun way to share in your team's success and recognize their hard work. A simple acknowledgement is fulfilling, rewarding, motivating, and inspiring for your team. Mark every success with an appropriate show of appreciation. It makes your team happy and that's part of running a good business.
Go out of your way to create a genuine and authentic culture that supports, recognizes, and rewards hard work. When you celebrate success in a timely manner and make celebrations a regular habit, it will:
Strengthen team building
Create loyalty
These are all things that your company strives to achieve and one way to get there is to celebrate your successes. If you're not sure how to celebrate success in the workplace, here are a few ideas:
Team party
Gifts
Bonuses & raises
Employee recognition
Flexible scheduling
Hand written thank you notes
High fives
Inclusion on social media, newsletters, etc.
Whenever you have reason to celebrate, let people know. Communicate your successes to the world and make it official. Show your team that you care. They are your most valuable asset and they deserve to be celebrated.
See Also: