18 Of The Best Hiring Quotes And Sayings
Your people are your greatest asset.  The people you ultimately choose to hire are directly linked to your company's overall success. There's no tired and true formula for hiring the perfect person every time. Sometimes you'll make mistakes. Other times you'll get lucky. It's your job to define a process that allows you to always hire the right person for the job.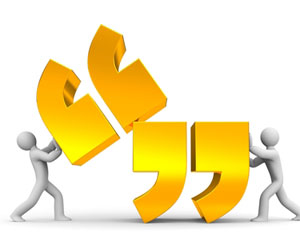 It's easy to find the latest and greatest hiring tips via blog posts, magazine articles, professional papers, or water cooler theories. But perhaps the best way to hire is to listen to the brilliant hiring quotes and sayings from some of the world's greatest business minds.
Explore JobMonkey's Employer Insights Guide
Here's a selection of insightful hiring quotes and sayings you'll want to share with your HR team:
"You can't teach employees to smile. They have to smile before you hire them." – Arte Nathan
"Never hire someone who knows less than you do about what he's hired to do." – Malcolm Forbes
"It doesn't make sense to hire smart people and then tell them what to do; we hire smart people so they can tell us what to do." – Steve Jobs
"Do not hire a man who does your work for money, but him who does it for the love of it." – Henry David Thoreau
"I don't pay good wages because I have a lot of money; I have a lot of money because I pay good wages." – Robert Bosch
"If you pay peanuts, you get monkeys." – Chinese Proverb
"You need to have a collaborative hiring process." – Steve Jobs
"Recently, I was asked if I was going to fire an employee who made a mistake that cost the company $600,000. No, I replied, I just spent $600,000 training him. Why would I want somebody to hire his experience?" – Thomas John Watson Sr.
"Hiring the right people takes time, the right questions and a healthy dose of curiosity. What do you think is the most important factor when building your team? For us, it's personality." —Richard Branson
"You can have the best strategy and the best building in the world, but if you don't have the hearts and minds of the people who work with you, none of it comes to life." – Renee West
"When you hire people that are smarter than you are, you prove that you are smarter than they are." — R.H. Grant
"People are not your most important asset. The right people are." – Jim Collins
"Don't hire anyone you wouldn't want to run into in the hallway at three in the morning."  – Tina Fey
"I am convinced that nothing we do is more important than hiring and developing people. At the end of the day, you bet on people, not on strategies." – Lawrence Bossidy
"Time spent on hiring is time well spent." – Robert Half
"Hiring people is an art, not a science, and resumes can't tell you whether someone will fit into a company's culture." – Howard Schulz
"Dating and hiring have a lot in common." – Scott Wintrip
"If you think it's expensive to hire a professional, wait until you hire and amateur." – Red Adair
This list features a few of our favorite hiring quotes and sayings. If you're keen to read more words of wise wisdom, a simple Google search brings up countless insightful hiring quotes. We recommend checking out websites like HireRabbit.com, SocialTalent.com, TruPathSearch.com, Entelo.com, GoodReads.com, or ProTechItJobs.com.
It's always smart to listen to the advice of great leaders. Hopefully these hiring quotes and sayings will ring true with you and your team. Let them inspire, encourage, and motivate your team to hire the right person for the job every time. Do this and your business will achieve great things.
Good luck with your next hire!
See Also: