Improve Your Mobile Recruiting Strategies To Attract Top Talent
If you aren't using mobile recruiting strategies to attract top talent, you're missing out. For today's modern job seekers, mobile is the name of the game. Without a plan to utilize mobile to attract job candidates, your company is going to have a hard time competing with the competition and that means trouble for your business.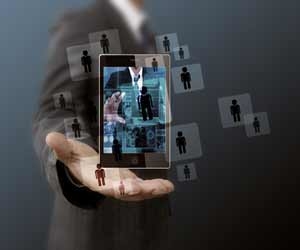 Game Changing Recruiting Stats That Will Change Your Hiring Strategies
Mobile needs to be a key component in your recruiting strategies. Since the majority of job seekers are on the move, they are more likely to be searching for jobs on smartphones and tablets than via laptops or newspapers. It's your responsibility to read your audience, target them on mobile, and actively engage them.
By focusing on mobile recruiting strategies, it will be a total game changer for your business. Just take a look at LinkedIn's Mobile Recruiting Playbook for a few eye opening stats about mobile recruiting using smartphones and tablets:
74% of Active Candidates have viewed career opportunities sent to their inbox
67% of Active Candidates have browsed career opportunities on job board sites
45% of Active Candidates have applied to a job
43% of Active Candidates have uploaded a resume to send or attach to a job application
This audience of mobile savvy job candidates are the future of the workforce. Mobile technology is here and you need to take advantage of it. Unfortunatley, the majority of employers are not taking mobile seriously. Here are a few stats from a LinkedIn Infographic that every recruiter needs to see:
Only 13% say they've invested enough in mobile friendly recruiting
Just 20% have mobile optimized career sites
Only 18% have optimized their job spots for mobile
Yikes! If your company is behind on mobile recruiting, it's time to take action. You need to get in touch with your audience so that you can understand what they want and need. Next, optimize your recruiting strategies for mobile. Finally engage your audience via the appropriate channels in a timely manner. Do these things and you'll see a big change in the way that you recruit.
17 Creative Ways To Recruit Employees
When you utilize mobile recruiting strategies you will instantly enhance the candidate experience. This will have an immediate and positive impact on your employer brand. Plus,  it will help you to attract the best job candidates out there, thus helping your company achieve great things. As you can see, mobile is kind of important.
Mobile recruiting isn't something that can be overlooked any longer. If your company isn't mobile friendly, you're holding yourself back from being successful.
See Also: