15 Ground Rules For Effective Meetings
Meetings are a necessary part of running a business. By joining forces with your team in an office meeting, you can exchange ideas, brainstorm goals, build your team, make plans, start a conversation, or ensure that everyone is on the same page. It's an essential part of the working world.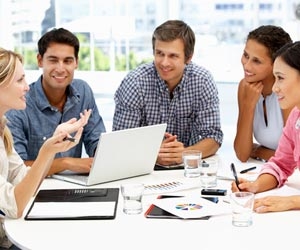 Do Your Employees Waste Time At Work?
Are you a fan of meetings? Probably not. We can all remember at least one meeting that made us want to pull our hair out and scream. Face the facts – not everyone likes meetings. Meetings are often viewed as an unnecessary and costly time waster that kills productivity. While this may be true in certain circumstances, it's not true if you follow certain ground rules for effective meetings.
If meetings are part of your office routine, do your best to make them as painless as possible for your team. Try to follow these simple ground rules for effective meetings every time you rally the troops:
Never hold too many or unnecessary meetings
Set a strict time frame
Stick to an established, written agenda
Create a clear goal
Be prepared
Appoint one individual to guide the flow of conversation and lead the discussion
Establish a list of attendees
Utilize technology
Give everyone the opportunity to participate
Limit smartphone usage
Always stay on topic
Take notes
Identify what happens next
Follow up with your team in person or via email
These ground rules for effective meetings aren't hard to follow. When run efficiently and effectively, meetings can become powerful tools that will boost productivity and get the results that will drive your business to success. Apply these ground rules the next time you plan to run a great meeting.
See Also: