7 Things You Need To Know About Seasonal Hiring
Seasonal employment is considered to be temporary or short-term employment that coincides with specific spikes in business. If you're in the cool and seasonal job niche, you'll likely already be familiar with the typical seasonal rushes that come during the holidays or at specific times of year. As a business, you need to plan ahead for seasonal hiring or you'll certainly wish that you had.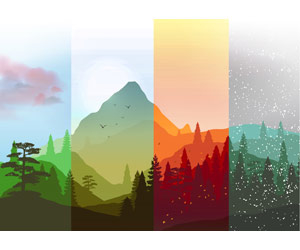 Seasonal hiring is a unique challenge that many businesses face. Employers need to hire seasonal workers for a wide variety of niches including the ski industry,  summer camps, amusement and theme parks, tax season, tree planting, outdoor jobs, tour guides, dude ranches, Alaska fishing jobs, retail, restaurants, and the list goes on.
Depending on the amount of business that you expect during the busy time, you may hire a few extra workers or you may need to hire tens of thousands of people. It's entirely dependent on your business' demands. Are you ready to hire your seasonal workforce?
Let's take a look at a few things you need to know about seasonal hiring:
Track Your Numbers – If you have a few seasons of history, this is easy to do. Take a look at your metrics and traffic during the last busy season. Use this information to make a hiring plan to ensure that you hire appropriately.
Consult With Your Legal Team – Hiring seasonal and short term workers comes with its own set of unique hiring considerations. Ensure that you follow the rules pertaining to employment classifications, pay grades, benefits, state and federal labor laws, and any other necessary requirements.
Hire Early – As HR pros, we all know that it takes time to hire quality workers. A good rule of thumb is to start the seasonal hiring process about six months in advance.
Advertise In The Right Places – When hiring seasonal workers, you need to target job candidates in the right areas. Niche job boards, like the JobMonkey JobCenter, are a great resource. Utilize professional organizations. Get creative.
Hire For Personality Over Experience – Often seasonal jobs require a friendly face with an outgoing personality. You can always train someone to do a job, but you can't always train someone to change their personality.
Invest In Training – If you want to create a great product or deliver a great service, you have to train your team. Don't skimp on your employee's training just because they are short term workers. Think long term. Often the best seasonal employees become your best full-team, year-round staff. Train accordingly.
Add Seasonal Workers to Your Talent Pool – At the end of the season, most seasonal employees go their own way. Don't lose contact with the workers you've invested in. Invite them back. Add them to your talent pool and contact them about future job openings if they are a good fit.
The world is filled with quality seasonal workers who want to work for you. Treat seasonal hiring with the respect it deserves and you'll be able to grow your company, meet demands, and boost your bottom line. Good luck!
See Also: