6 Reasons Why Volunteering Is Good For Business
Did you know that company sponsored volunteering is good for business? It's true. If you haven't established a volunteering program at your office, right now is the perfect time to set one up.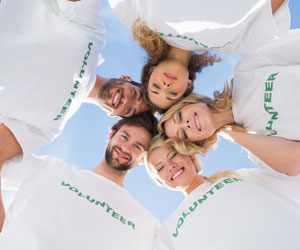 Volunteering is the ultimate altruistic activity. There are so many ways to give back to your community and make a difference in the world. Why don't you organize a day where you and your team can get involved and make a positive impact.
Every community has non-profit organizations that strive to do good things. All you have to do is find a non profit that aligns with your company culture and your employee's interests. Then it's time to take action.
Obviously, volunteering is good for the world, but it has other benefits for your company too. Here are a handful of reasons why volunteering is good for business:
Make A Positive Impact On Your Community
Allow An "Escape" From The Office
Attract Quality Job Candidates
All of these things can ultimately improve your bottom line and enhance your corporate image. As a business, that's a really good thing. Take the time to organize a company sponsored volunteer day. Encourage your team to participate. One good way to do this is to offer different levels of involvement. You can even incentivize your volunteer days by providing paid time off for volunteering.
If you're not sure where to begin, try to find volunteer opportunities that are interesting, fun, and meaningful. Volunteering can focus on the environment, social change, local communities, youth enrichment, education, special events, sports & recreation, arts, counseling, mentorship, philanthropy, community service, or just about anything else.
Need some volunteering inspiration? Here are a few quick ideas:
Serve meals at a homeless shelter
Maintain the local trail system
Build playgrounds in different neighborhoods
Pick up trash along the beach
Organize a tree planting party in local parks
Once your company sponsored volunteer program is up and running, you'll see that volunteering is good for business. Plus, it's great for your team. Start a volunteer program to day and you'll be impressed with the results.
See Also: