5 Reasons Why You Should Let Employees Telecommute
Would you telecommute if you were allowed to? Of course you would. Who doesn't enjoy the idea of working remotely? Imagine eliminating your morning commute and not having to spend 9 to 5 in the office. It sounds nice, right? That's what telecommuting is all about.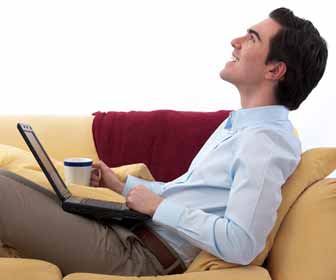 As technology advances, so does telecommuting. This growing trend is booming in popularity around the world. According to Global Workplace Analytics, 50% of the US workforce is capable of telecommuting for at least part of their work and 80% to 90% of the US workforce says they would like to telework at least part time. Those are staggering numbers.
Many employers worry that telecommuting will ruin productivity, damage communications, and hurt the bottom line. Actually, the total opposite is true. Telecommuting creates more productive, more satisfied, more efficient, happier employees. Employees love it, but telecommuting also does wonders for the company.
When companies let employees telecommute, the pros definitely outweigh the cons. Here are a few reasons why you should let employees telecommute:
Better Recruiting – Since telecommuting does not limited your recruiting to a specific geographical location, you can recruit the most talented candidates in the country. When you capture top talent, your company thrives.
Technology Makes It Possible – The Internet is everywhere. The technology is easy to access and allows for meetings, communications, and deadlines to be met. We're connected at all times. Take advantage of it.
Eco-Friendly – When you eliminate the commute of your employees, it significantly lowers the company's carbon footprint. Every company wants to be environmentally friendly.
Cost Savings – According to HubSpot.com, employers can save $11,000 per year by letting employees telecommute. This includes reductions in costs of office space, offering lower pay, no relocation fees, and the reduction of other overhead costs.
Employees Stick Around – When you offer employees what they want, they tend to stick around. Employee retention is always a challenge, but telecommuting increases the chances that talented employees will stick around longer due to the flexibility and freedom of remote work.
Freedom and flexibility come at a premium and employees are keen to sacrifice certain perks for the opportunity to work from home. If the employee can do the work remotely, keep the lines of communication open, and complete high quality work from home why wouldn't you let them telecommute? It's a win-win situation for everyone.
Ideally telecommuting will boost your company's productivity and efficiency and cause your employee satisfaction to sky rocket. It's time to consider offering telecommuting to your employees. Test the waters and see how it goes, it might just be your ticket to success.