These Recruiting Facts And Figures Will Help You Make Better Hires
To be a top recruiter and to hire the best and brightest job applicants, you need to arm yourself with as much information as possible. By gaining insight into the hiring process, you'll be able to improve the candidate experience and ultimately make better hires.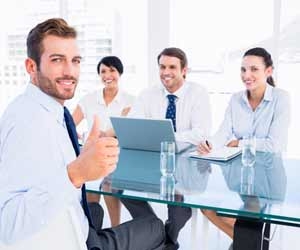 Recently we stumbled upon a downloadable report from CareerBuilder.com titled, "How to Rethink the Candidate Experience and Make Better Hires." To compile this valuable report, CareerBuilder surveyed over 5000 job seekers in the US and Canada and 1505 hiring managers and recruiters. By taking a step back from the recruiting and hiring process that were able take a good look at the overall experience from both the job seeker's and the recruiter's point of view.
Eye-Opening HR And Recruiting Stats That You Need to See
The study established that their are a few main disconnects between job candidates and recruiters. But the major takeaway is that "It's time to get back to basics." By comparing the hiring process to dating, CareerBuilder shows that all parties involved need to turn it down a notch and keep it simple. This is the best way to find a perfect match.
Everyone in the HR world should download CareerBuilder's report. When we were reading it, we found the facts and figures to be eye opening. Below we highlight a handful of recruiting statistics from the report that will help you make better hires:
76% of full-time employed workers are either actively looking for or open to new job opportunities.
81% of applicants want to know the contact information of the person that posted the job.
Before applying, 72% want to talk to a recruiter or hiring manager.
More candidates (74%) want to see salary than any other feature in a job posting.
82% feel seeing the team structure and where the job fits into the organization is important.
Only 36% of candidates say they apply without first doing research.
Location is paramount: 65% say they spend the most time researching the company's location.
On average, job seekers use 16 total resources in their job search.
Hiring managers and recruiters use an average of 15 resources to find the right candidate.
Job seekers say 4 out of 10 (38%) of their applications never receive a response or any type of communication.
On average, companies say it takes anywhere from 26-34 days to fill an open position.
33% of employers believe it took too long to fill their last open position.
52% of employers say they wait for candidates to apply.
Missed opportunities: Only 20% of job seekers say they were recruited first.
39% of employers say their biggest frustration is when unqualified candidates apply for positions.
Job seekers' biggest frustration: Employers don't respond to them.
How will these recruiting facts and figures change the way you approach the recruiting process? All of these stats provide valuable insight into how job seekers and recruiters view the job search process. Use this to your advantage to help you craft better job descriptions, supply useful information, recruit passive job candidates, find the best places to find top talent, and personalize the job search experience. Share this info with your team and apply it to your hiring process. When used wisely, these facts and figure will help you make better hires.
Visit CareerBuilder.com to download the full report today. You'll discover even more recruiting facts and figures in the report that have the potential to change the way you hire.