8 Reasons Why Video Interviews Are A Game Changer
As a HR professional, it's your job to hire the best person for the job. That's no easy task, which is why it's important to utilize a variety of recruitment tools that can make your job easier. One powerful tool that you need to add to your hiring toolkit is the use of video interviewing. Video interviews will boost productivity, save time, cut costs, and do so much more. If you aren't already using video interviews in your hiring process, this is going to be a total game changer.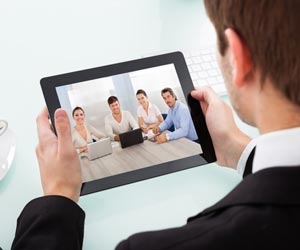 For busy hiring managers, video interviews are a valuable tool to use during the candidate screening process. As the video interview grows in popularity, it is quickly replacing phone interviews and it shares many of the same characteristics as the traditional in-person interview – making it an efficient and effective way to interview job candidates.
What Questions Will Job Seekers Ask During The Job Interview?
The rapid growth of technology means that almost every computer, tablet, or smartphone has a built-in webcam. Combine this with a steady Internet connection and you can connect with any candidate at any time in any location. When you take advantage of this technology it can totally transform the interviewing process.
Let's take a look at why conducting video interviews is a total game changer for the hiring process:
Easy To Schedule – Video interviews are convenient for both recruiters and job candidates. Technology eliminates annoying scheduling conflicts and makes it easier to connect.
Able To Record, Share, And Review – If a hiring manager records the video interview, they can easily review it later or share it with colleagues. This ensure you will never miss anything.
Cost Effective – Video Interviews are essentially free. They eliminate the need for travel and cuts costs associated with interview times.
Works Anywhere – Using video interviews allows you to speak with job candidates anywhere in the world. This expands your reach and increases your ability to hire top talent.
Saves Time – We all know the costs of hiring a new employee. Video interviews can reduce the length of the hiring process because it eliminates the need to schedule interviews and allows recruiters and candidates to connect at convenient times. This will save money.
Improves Job Search Experience – It's important to think about the job candidate's hiring experience. Video interviews make it easy to interview and therefore enhances the overall hiring experience, which means more people are going to be keen to work at your company.
Share Files And Links – When you are connect during a video interview, it's easy to share files and links with candidates. Accessing important documents for reference is also simple.
Allows For "Face-To-Face" Connection – Even though you are utilizing webcams to speak to someone in another place, video interviews still create a personal connection. Pay attention to background noises, body language, eye contact, etc. It can help you learn a lot about a job candidate.
Video interviews are an effective tool that every company should take advantage of. With a bit of practice, you will master the art of conducting video interviews.